Keesha Middlemass of Howard University's Department of Political Science Joins PBS NewsHour's "Searching for Justice" Panel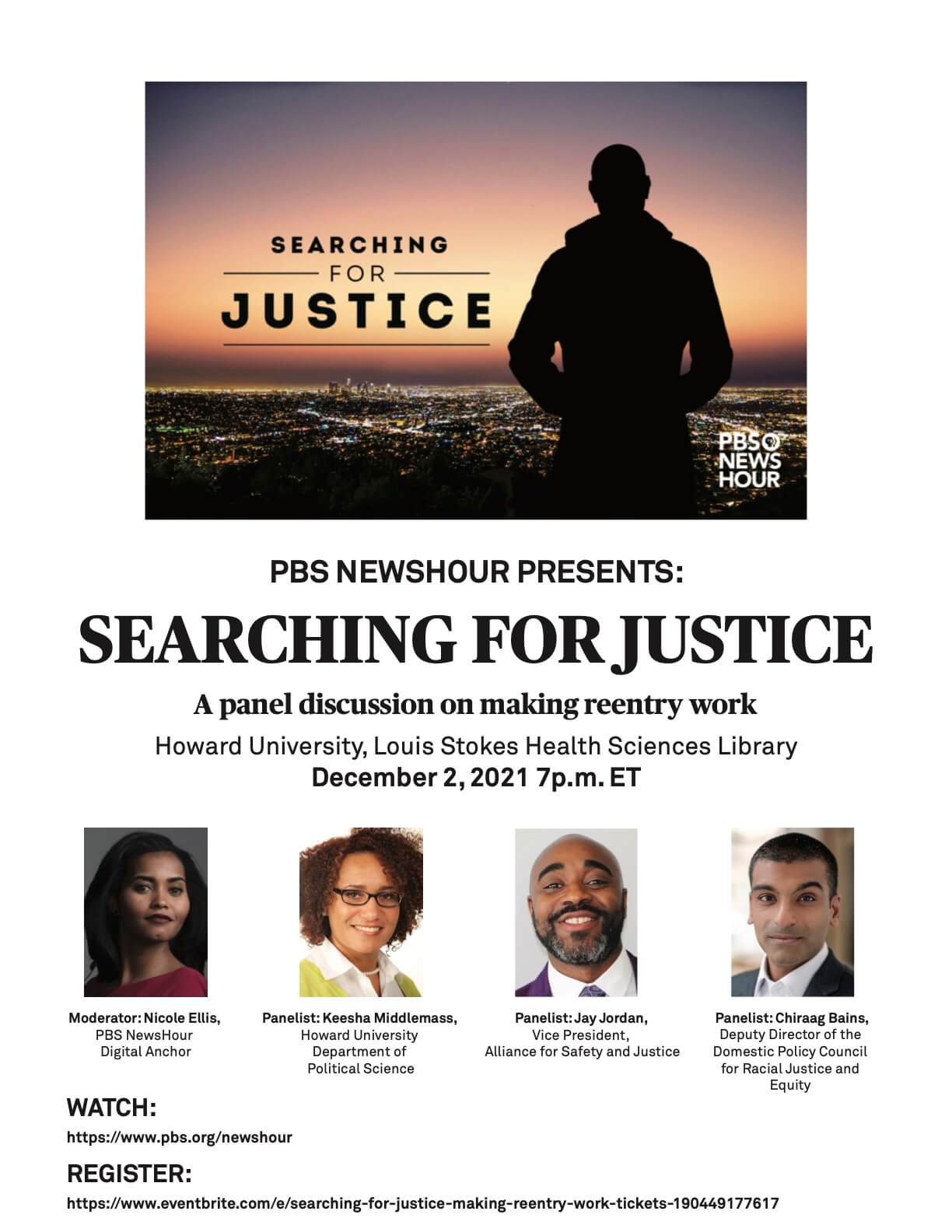 WASHINGTON – Keesha Middlemass, professor in the Department of Political Science at Howard University,PhD, will join PBS NewsHour for an hour-long discussion on life after prison, the challenges of the reintegration process for returning citizens and why it matters. As part of PBS NewsHour's ongoing "Searching for Justice" coverage, the event will be streamed live on the PBS NewsHour website from the Louis Stokes Health Sciences Library on December 2 at 7 p.m.
"Howard University's College of Arts and Sciences has some of the nation's foremost scholars and thought leaders on the need for fundamental change in our criminal justice system," said Rubin Patterson, dean of the Howard University College of Arts and Science. "We are so grateful to our colleagues in political science who will help inform the nation on December 2 via the PBS NewsHour about the harrowing challenges facing citizens reintegrating into local communities across the country. This thoughtful conversation will not only discuss the problem, but it will also communicate solutions.
Each year, more than 600,000 people are released from state and federal prisons in the United States. Many of these people find that even though they have served their sentence, they are still not free, often facing barriers to housing, food, employment and more. Their criminal history follows them long into the future, making it difficult to stay out of jail or jail.
The rate at which formerly incarcerated return to prison is stubbornly high. Within three years of their release, approximately 40% of those released are returned to prison. Advocates argue that when formerly incarcerated adults are able to reintegrate successfully, society as a whole is better off.
Moderated by PBS NewsHour digital anchor Nicole Ellis, panelists include:
Keesha Middlemass, Ph.D., associate professor, Department of Political Science, Howard University;
Jay Jordan, Vice President of the Alliance for Security and Justice; and
Chiraag Bains, Deputy Assistant to the President and Deputy Director of the Domestic Policy Council for Racial Justice and Equity at the White House.
Middlemass focuses on the intersection of race, public policy, and lived experiences with the criminal justice system. She is the author of "Convicted & Condemned: The Politics and Policies of Prisoner Reentry" (New York University Press, 2017).
"Reintegrating into society after serving a prison sentence is a difficult process as each individual must create a life for themselves by addressing multiple interrelated issues simultaneously and doing so with little or no support while navigating public policies that impede their efforts to reintegration," said Average mass.
Jay Jordan is a nationally recognized public policy expert, political campaigner and organizer. He is currently Vice President of the Alliance for Security and Justice, a multi-state organization working to replace over-incarceration with more effective public safety solutions rooted in crime prevention, community health, rehabilitation and support for victims of crime, and as National Director of #TimeDone, a campaign to end restrictions and barriers for people living with prior convictions.
Jordan will speak about his personal experiences as a formerly incarcerated individual reintegrated into society
Chiraag Bains oversees the DPC's Democracy and Voting Rights, Criminal Justice, Disability, Indigenous Affairs, Racial Wealth Gap, and extensive White House equity portfolios. He will discuss the current administration's reintegration priorities.
Nicole Ellis and the panelists will answer questions from the audience.
To register for the event, visit https://www.eventbrite.com/e/searching-for-justice-making-reentry-work-tickets-190449177617.
The event will also be streamed live at https://www.pbs.org/newshour.
###
About Howard University
Founded in 1867, Howard University is a private research university comprised of 14 schools and colleges. Students follow more than 140 study programs leading to undergraduate, graduate and professional degrees. The University operates with a commitment to excellence in truth and service and has produced one Schwarzman Scholars, three Marshall Scholars, four Rhodes Scholars, 12 Truman Scholars, 25 Pickering Scholars, and more than 165 Fulbright recipients. Howard is also producing more African-American doctorates on campus. recipients than any other university in the United States. For more information about Howard University, visit www.howard.edu.
Media Contact: Aaliyah Butler; aaliyah.butler@howard.edu