political science professor pleads for restricted methods of warfare | Culture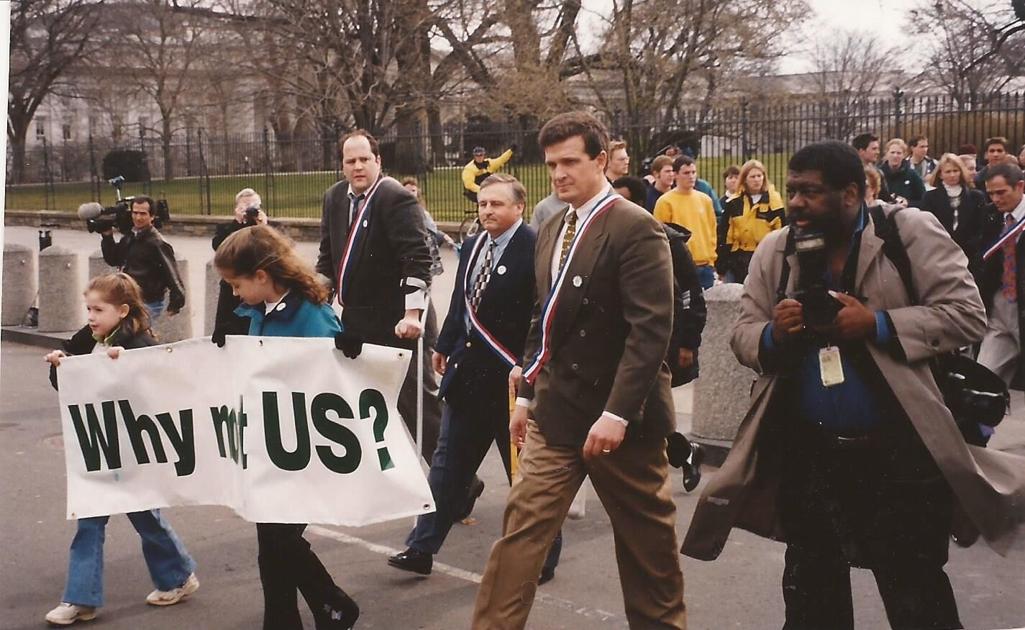 Ken Rutherford has lived many lifetimes in his own life. When an anti-personnel mine overturned Rutherford's vehicle while on a humanitarian trip overseas, he found himself facing death.
"The next thing I know is that I went blind," Rutherford said.
Rutherford is professor of political science and former director of the Center for International Stabilization and Recovery at JMU. In 1987, Rutherford began his career working for the Peace Corps in Mauritania, a country in West Africa. He continued his humanitarian work for the Office of the United Nations High Commissioner for Refugees (UNHCR) as emergency coordinator for refugees in Senegal before eventually landing in northern Kenya and Somalia as relief officer emergency humanitarian aid.
On October 4, 1993 – the day after Black Hawk Down, a failed raid in the Somali capital that resulted in a helicopter crash that killed 19 US soldiers – a crowd surrounded Rutherford and his staff car.
"I was the only American operating in the area," Rutherford said. "[My staff] backed the car up through the crowd, threw me in and pulled out.
Rutherford's staff had told the crowd they were Canadians, allowing them to escape the crowd unharmed.
A week later, her life would change forever.
"I mentally wrote my eulogy"
It was a Thursday, Rutherford recalls, as he drove with a team of Somalis. They were on their way to meet a group of refugees repatriated from Ethiopia. "When I talk about it, I have to go back and think it over," Rutherford said. He went through a checklist of memories leading up to his injury, reliving the moment vividly in his head. "Muslims don't work on Fridays; my life was in danger, "said Rutherford.
"The car slowed down and I looked up and there was a donkey cart on the road," Rutherford said.
Rutherford's car was in uncontrolled territory of the United States when it struck the landmine. He remembers the dust that came out, looking down and seeing someone's foot on the floor.
"I fell in the passenger seat and couldn't move," Rutherford said. "That foot was mine – and it wasn't on my body."
Rutherford said he fell from the car, tied tourniquets around his legs and used a radio to call for help. "I mentally wrote my eulogy," Rutherford said. He was taken to five hospitals in four different countries, where he ultimately had both legs amputated from the knee down, using prostheses on both legs to walk.
It was then that Rutherford's career took a turn.
In the spring of 1996, Rutherford met Jerry White, another amputee who was injured in Israel, also from a landmine. Wanting to spread their message and stand up for others affected by the war, the two co-founded their own organization. Rutherford said that due to the lack of awareness around the issue, the only way to "turn up the volume" was to start your own organization.
Rutherford and White launched the Landmine Survivors Network, promoting the rights and supporting the voices of people affected by conflict around the world. However, they still felt their message was not being heard. People only listened to their stories, Rutherford said, apologizing for what Rutherford and White had been through, but not listening to the mission they wanted. Rutherford said the feeling was as if "the microphone was taken away from us".
Finally, they saw the light at the end of the tunnel, having the opportunity to travel abroad and promote humanitarian rights.
"We started receiving grants, and our first major grant was to go to Bosnia for five weeks to examine the rehabilitation needs of recently returned mine disabled refugees," said Rutherford. "Then we had the opportunity to work with the most famous person in the world."
Rutherford, at a conference, recalled an early interaction with Princess Diana, featuring a photo of the two laughing together in Washington, DC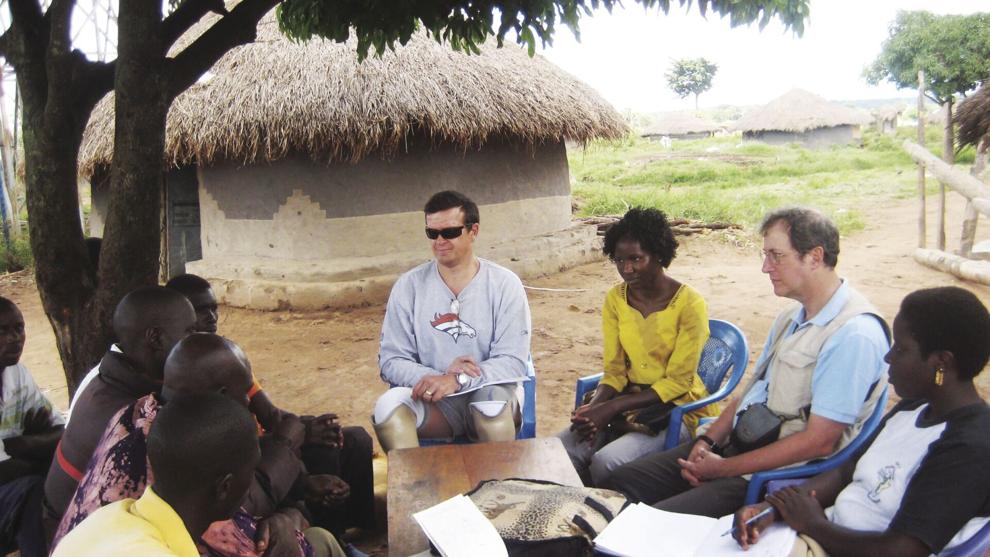 "I was always told to call her madam like in the jam until she corrected me, and she never did," Rutherford said. "[The picture] It's the only time I've called her Diana, and that's why she laughs.
Rutherford's course revolves around the international laws of war, expressing to students the importance of restrictions on war and the protection of the well-being of mankind.
A royal introduction
Rutherford first met Diana, Princess of Wales, at a conference hosted by the Mines Advisory Group and the Landmine Survivors Network. Soon after, the two met again in Washington, DC, at the American Red Cross.
Diana's presence was the missing piece in Rutherford and White's humanitarian battle to end landmines. The media began to cover the stories of people disabled by landmines after Diana's involvement, Rutherford said.
Eventually, Rutherford had the opportunity to travel to Bosnia and Herzegovina with Diana to visit the landmine refugees. He said he was "shocked" when she agreed to come.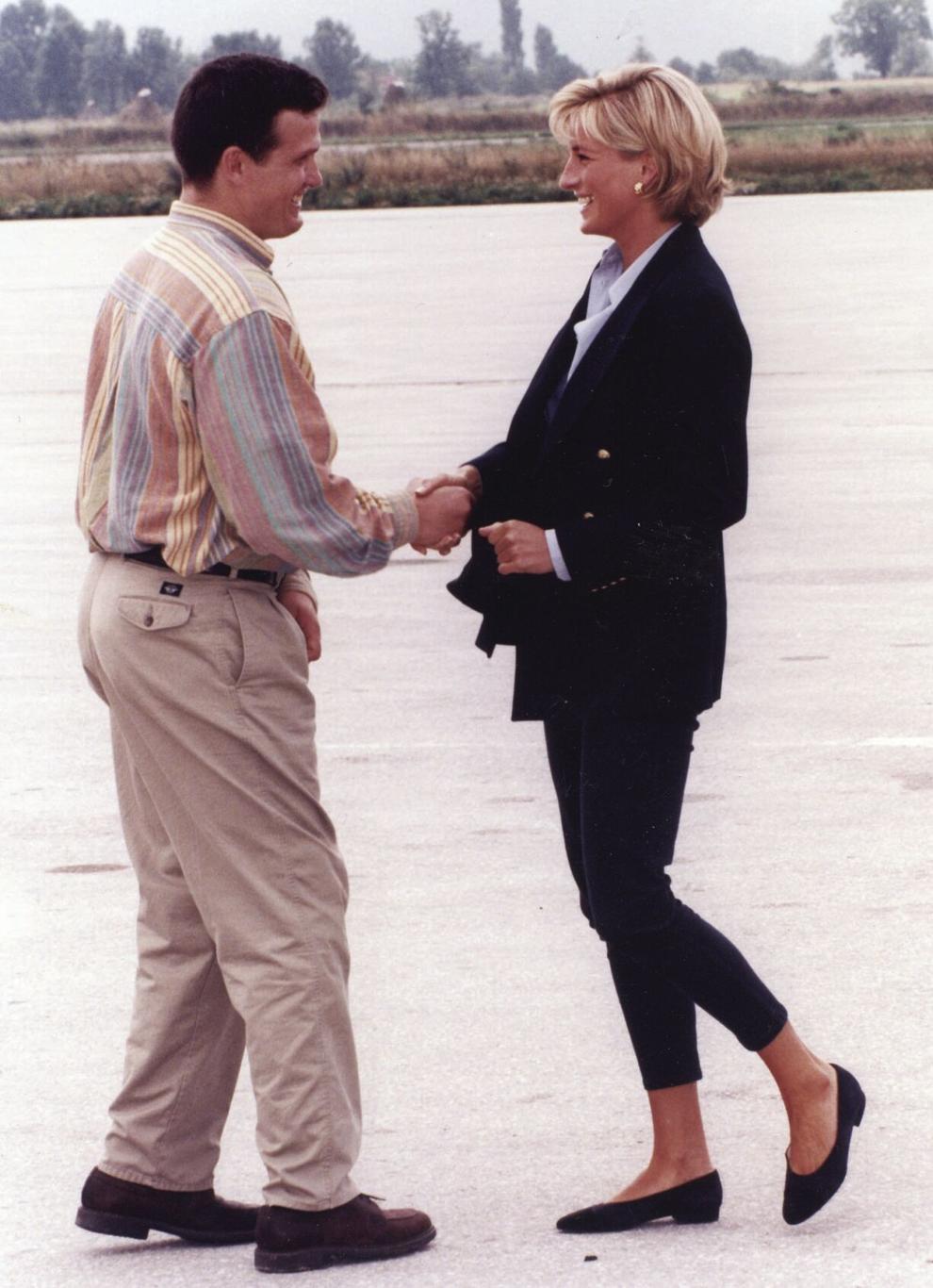 Diana arrived in Bosnia in 1997, accompanying Rutherford and White on a three-day trip to visit five families of refugees with disabilities to promote the inclusion of their rights in international law banning landmines.
"She wasn't one of those celebrities who said, 'Come on to dinner' or 'I'm going to have a banquet with you,' then left, 'Rutherford said. "She walked her speech."
Three weeks later, Rutherford attended his funeral. He remembers being at Kensington Palace the day before the event.
"We are looking at the flowers around the palace, and there are around 7 million people in the streets for the funeral procession of a single mother of two," Rutherford said. "How did she do it?"
Rutherford described Diana as someone who "identified with those on the fringes of society" and gave a voice to those who were ignored.
"It's no coincidence that she is the first celebrity to touch someone with AIDS," Rutherford said. "She said they are 'human beings'."
1981 marks the start of the AIDS epidemic. Despite the significant presence of the virus, he represented a minority group, creating a stigma that anyone with AIDS was socially unacceptable.
Shortly after Diana's death, the disability-supportive language they had been working on was included in the mine ban treaty being negotiated in Oslo, Norway. The treaty was signed in Ottawa, Canada, in December 1997, becoming known as the "Ottawa Treaty".
"All of a sudden, victim support was a big problem; we had no opposition, "Rutherford said in his lecture. "I said to Prince Harry: I said, 'Your mother made the ball cross the finish line. "
The next generation
After years of working to promote the rights of those wounded by war – trying to draw attention to an issue he said was continually being ignored – Rutherford found his way to the classroom.
Rutherford said he wanted to take his message to the next wave of potential activists, relaying it to students and using educational activities to engage them in international humanitarian law.
In 2010, Rutherford came to JMU, where he created a course on the International Laws of War – a subject never taught at university before his arrival.
"More civilians are being targeted than ever before," Rutherford said. "We need to start restricting the methods of warfare to protect humanity, and I'm trying to pass that on to the next generation."
Gracie Michelle, a pre-law political science major and one of Rutherford's current students in her international law of war class, praised her professor.
"The Rutherford champions are a talker so hard it's easy to get passionate about everything he teaches," Michelle said. "He does a great job of amplifying the issues and what needs to be done and how can we change it."
Broderick Malloy, a political science student and another current Rutherford student, discovered an inner passion for Rutherford's lectures on the importance of humanitarian law to him.
"There is a lot of injustice in the world, and with the law you can make permanent changes," Malloy said.
Rutherford taught his international law of war course at JMU for three semesters. He said he hopes to continue educating students about global awareness and the need to protect people around the world.
"I just believe in teaching right now," Rutherford said. "I put it all in and hopefully everything you learn in this course will benefit the protection of people around the world – I believe so."
In addition to teaching, Rutherford continues to travel the world with the Landmine Survivors Network, speaking and representing and fighting for the care of people disabled by landmines.
"The evil that men do lives on long after them," Rutherford said in his lecture. "It is important for us to prevent some of these guns from coming out and to avoid other casualties."
Contact Emma Johnson at johns7ek@dukes.jmu.edu. To learn more about the culture, arts and lifestyle of the JMU and Harrisonburg communities, follow the culture office on Twitter and Instagram @Breeze_Culture.