Political science professors respond to students' fears over the conflict in Ukraine | Campus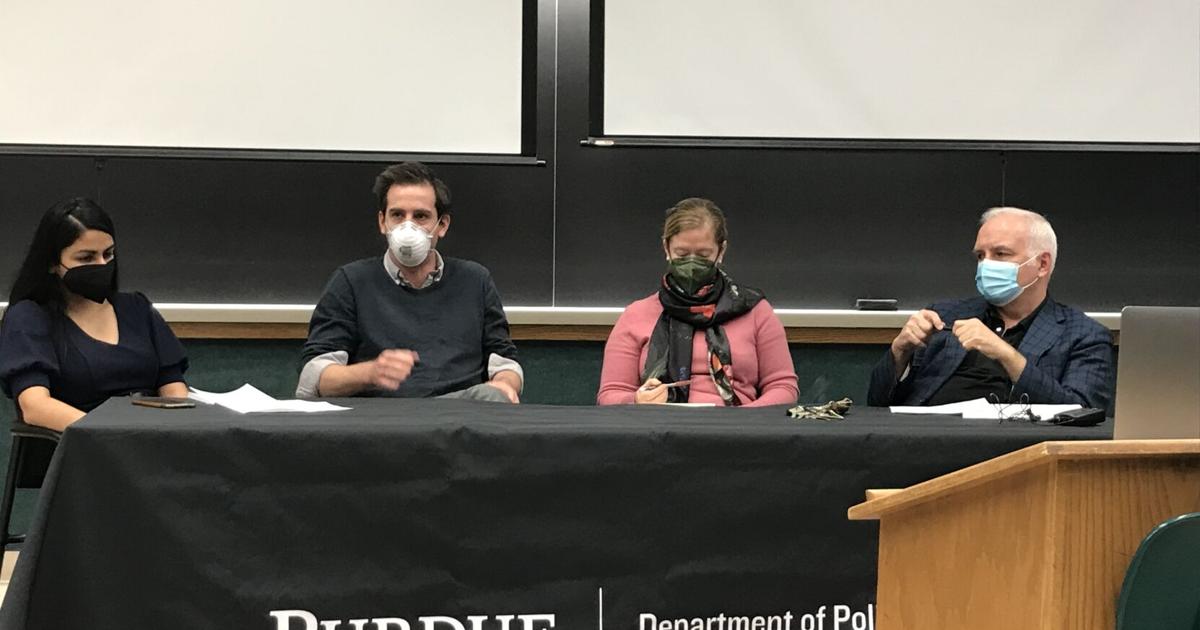 Dozens of people sat in a large conference room, anxiously awaiting a discussion of recent events in Ukraine. A chilling silence filled the crowded conference room as they waited.
The Political Science Department held a roundtable on Friday at Beering Hall among four professors following the invasion of Ukraine on Wednesday night.
The roundtable was organized by political science professors Keith Shimko, Kyle Haynes, Swati Srivastava and Melissa Will. First to break the air was Shimko, as he answered a question about Russian President Vladimir Putin's intentions and end goal in invading Ukraine.
"It's clear what motivates him, but less clear what the outcome will be," Shimko said.
Shimko said the territorial breakup of the Soviet Union was tragic for Russia to sit back and watch, and Putin will not tolerate a country on its borders that is anti-Russian and more pro-Western.
He said he believed Putin's end goal was to install a government in place of the current Ukrainian government that would stop the pro-Western movement and be much less powerful.
The professors then assessed the response of the United States and NATO, which introduced a debate on the vital interests of the conflict, mainly between Haynes and Shimko. Although there were occasional disagreements between the teachers, they kept the answers light-hearted, which helped ease the tension in the room and even prompted some laughter.
"We are seeing an international movement, which is important," Srivastava said referring to the role of the United Nations in the situation. Srivastava said possible responses would be Russia's suspension or expulsion from the UN.
Will, a former CIA analyst, said there seemed to be a little more unity than expected; countries, including the United States and the United Kingdom, had helped prepare Ukraine. Will said she believed that while the invasion could not be prevented, perhaps Ukraine and other countries were better prepared for the fallout from events.
The issue of cybersecurity and the effectiveness of sanctions against Putin was raised.
"The type of evidence of cybersecurity attacks against the United States might not be so important," said assistant professor Kyle Haynes. "There's not always the same public pressure to fight back."
Regarding the effectiveness of sanctions against Putin, Haynes said, the hope is that this period of action will be met with economic costs and suffering for Russia, as assets are seized and banks are cut. .
Towards the end of the discussion, the teachers turned to the crowd in questions, watching dozens of hands go up. The questions ranged from the airspace concern to what it means for China and the implications around the world. The professors have done their best to ease individuals' concerns, ultimately reassuring what it means for those around the world.
Asked about the possibility of Putin's future plan to invade neighboring NATO countries, Will said: "It would be a series of low-probability events to bring us to this worst-case scenario."