WNC News and Notes: BYU, major in political science, looks back on his Jump Start experience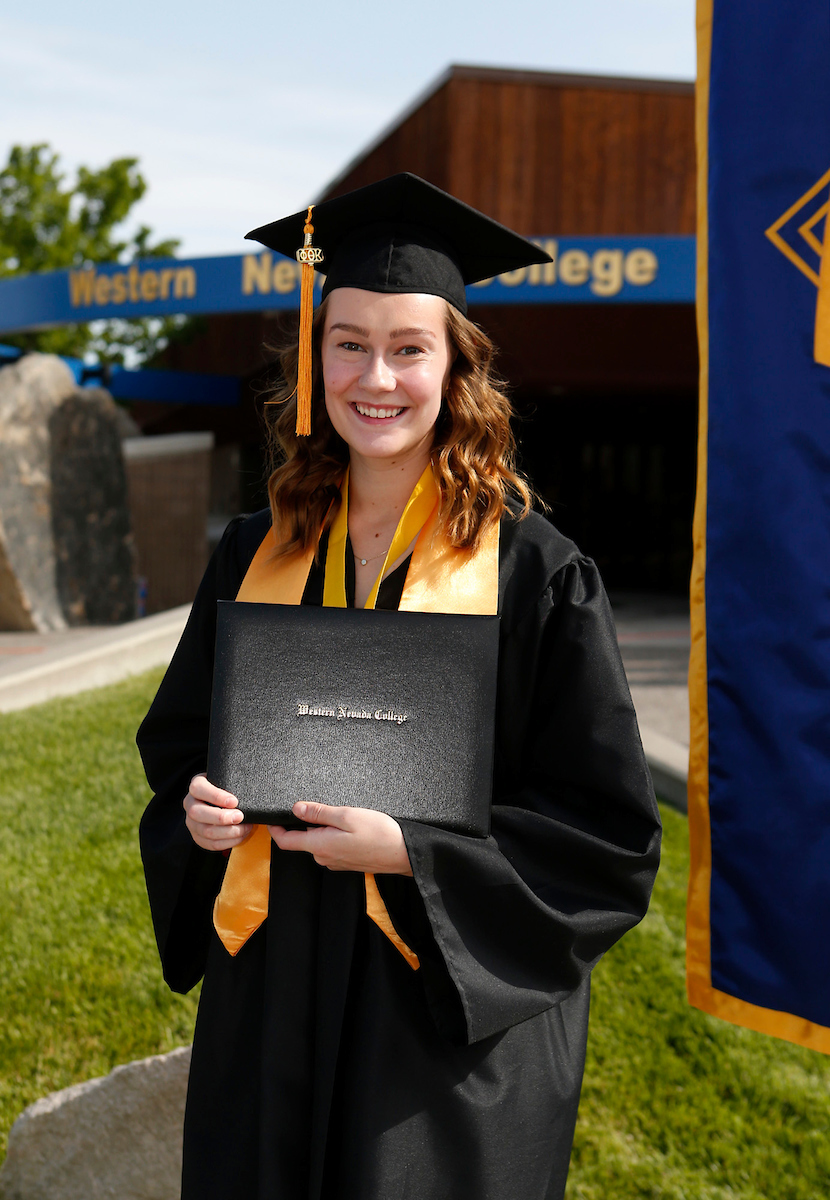 While attending Western Nevada College's Jump Start program, Maria Whitaker graduated from WNC in the spring of 2020 at the same time as she graduated from Churchill County High School.
The fact that Maria Whitaker is able to take upper division classes as a freshman in college shows that education has been a high priority in her life.
But the fact that she is doing so at Brigham Young University, one of the nation's most beloved and respected colleges, reveals not only what kind of student she is, but also what the Jump Start program of the Western Nevada College can do this for a student interested in higher education.
Whitaker graduated from Churchill County High School in 2020, but because she participated in WNC's Jump Start program, she also earned an associate's degree while graduating from high school.
Essentially, it gave Whitaker two years ahead of the other high school kids in college and saved him two years of tuition and other costs.
"Jump Start is not just for 'smart kids'! " she said. "If you're willing to work hard, discipline yourself, and ask questions when you need help, Jump Start is a great experience. "
First of all, what Whitaker learned in the Jump Start program as a high school student was to take responsibility for his education and learning.
"My teachers were always ready to work with me and allowed me to take my learning in a direction that was meaningful and personal to me," said Whitaker. "For example, they often let students choose their own topics for projects and support them by connecting them to the right sources. I loved the academic challenges that Jump Start presented – I always felt like I was being pushed in the right direction and in the right direction.
By personalizing his education and making it a top priority, Whitaker has performed very well in his classes, earning a GPA of 4.0. In achieving this coveted level of academic excellence, Whitaker didn't feel like she was sacrificing more than other students because of what education means to her.
"What you achieve depends on what you prioritize, and for me that was often my education," she said. "I leaned on others who wanted me to be successful as well, including professors and students who shared similar goals. One of my favorite parts of Jump Start was that the teachers put themselves on the same level as their students and were so willing to work with them to help them be successful. Understanding what teachers expect is the key to success. I took advantage of the mutual respect between teachers and students and tried to remind myself that I cannot do everything on my own.
By combining his junior and senior years of high school with his first two years of college, Whitaker is now able to be more flexible with his junior and senior years as a political science major at BYU.
"I admit that after graduation from Jump Start, I first felt pressure (mostly from myself) to stick to a 'set in stone' education plan and complete my undergrad in two years, "Whitaker said. "I quickly realized that there was nothing wrong with changing my plan and decided to use the 'buffer' that Jump Start had given me and spread my classes over three years. Overall, I'm grateful that Jump Start has given me the tools I need to make decisions about my education and future that are right for me.
To learn more about WNC's Jump Start program, visit wnc.edu/jump-start/, email jumpstart@wnc.edu, or call 775-445-3250.

Launch Your HVAC Career With Spring Courses
Prepare for a new career in air conditioning repair, troubleshooting and installation by completing training at Western Nevada College's new HVAC lab in 2022 on the Fallon campus.
WNC offers three heating, ventilation and air conditioning courses for the spring semester to help students prepare for the skills certificate needed to enter the industry.
The courses offered this spring are Refrigeration Theory (AC 102), Schematic Reading for HVAC / R (AC 113), and Basic Refrigeration Maintenance (AC 150). The first two courses can be taken online, while basic refrigeration maintenance is available in person on Fridays from noon to 5 p.m. at the Fallon campus.
The new HVAC lab in Sage Hall 101 was completed earlier this year and courses became available to use this facility during the fall semester. The William N. Pennington Foundation funded the project.
"The WNC Foundation is extremely grateful to the William N. Pennington Foundation for its investment in WNC. It is exciting to be able to provide cutting-edge learning to WNC students on all of our campuses," Niki, Executive Director of the WNC Foundation. Gladys said.
This program will provide the skills, knowledge and experience to students preparing for work in demand of installing, troubleshooting and repairing HVAC systems.
To learn more about the program or to become a student at WNC, call 775-445-3267 or visit www.wnc.edu/starthere/ ..

Accelerated courses for the current winter session, others will start on January 3
If you missed the start of the WNC winter semester, there is still time to take advantage of these crash courses.
The five-week online course session began December 20, but students can complete a late registration form with instructor approval for admissions and records by December 27 to register. to these courses: General Biology for non-majors (BIOL 100), Intro to Cell and Molecular Biology (BIOL 190), The Modern World (CH 202), Introduction to Special Education (EDU 203), Composition I (ENG 101) , Composition II (ENG 102), Introduction to Environmental Science (ENV 101), Survey of US Constitutional History (HIST 111), Fundamentals of College Mathematics (MATH 120), Precalculus I (MATH 126) and Principles of Sociology (SOC 101) .
Students also have the option of taking 3-week online courses that start January 3. These crash courses include Visual Foundations (ART 100), Art Appreciation (ART 160), Ancient and Medieval Cultures (CH 201), European Civilization to 1648 (HIST 105) and Introduction to Systems of information (IS 101).
To register for these courses after January 3, students must submit a late registration form with instructor's approval to Admissions and Records by January 7. These courses will end before January 21.
To view all winter semester courses, go to wnc.edu/class-schedule/. For more information, call 775-445-3267.

Register now for the spring semester
Spring semester classes are about a month away, so students are advised to enroll now so that they can enroll in any classes they want.
Students who plan to take in-person classes in the spring will need to get the vaccine, as required by the Nevada State Board of Heath. Students who take all of their courses online will not be required to be vaccinated, but all students will be required to complete an immunization status form at wnc.edu/student-vaccine-form/. For help filling out this form, visit https://www.youtube.com/watch?v=9qAYqHS_BiQ.
Short-term, late-start, self-paced classes will also be available in the spring. See the courses on wnc.edu/class-schedule/.
If you need help preparing for the spring semester, make an appointment with Counseling Services at 775-445-3267 or counseling@wnc.edu. If you are interested in becoming a student at WNC, call Admissions & Records at 775-445-3277 and go to wnc.edu/starthere/.

Nursing program entrance exam dates announced
Applicants to the Western Nevada College Nursing Program can choose from six dates after the New Year to take the required entrance exam.
Test dates for the Test of Essential Academic Skills (TEAS) include the 2022 test dates in January, February, and March:
• January 28
• February 4 and 18
• March 4, 11 and 18
Testing takes place from 9 a.m. to 1 p.m. in WNC's Cedar Building 320D room. Check-in starts at 8:30 a.m.
Students must have passed the entrance exam in Fall 2021 or complete it in Spring 2022 to be considered for admission to the Fall 2022 Nursing Program. The deadline for submitting applications for Nursing Program 2022 at Admissions and Records is April 1, 2022.
For more information, visit http://wnc.edu/nalh/teas/.

The college will close for Christmas Eve and New Years Eve
All three Western Nevada College campuses will be closed on Friday December 24 and Friday December 31 to celebrate Christmas weekend and New Years weekend.
The college will reopen with normal opening hours on Monday December 27 and Monday January 3.
Many college services can be provided online. For more information, visit wnc.edu.
Have a Merry Christmas and a Happy New Year!